University of Maryland to Host Fourth Annual Project Management Day of Service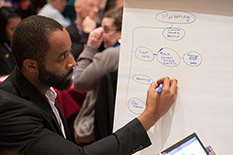 The University of Maryland (UMD) Project Management Center for Excellence will welcome nonprofits and project managers to the College Park campus January 15, 2018 for the annual Project Management Day of Service (PMDoS™).
Led by Project Management for Change in partnership with the five D.C.-area Project Management Institute (PMI) chapters, the 2018 PMDoS will connect project management experts with nonprofit organizations to provide pro bono project management services in support of worthy projects.
"We are thrilled to continue our support of this worthy cause as a major sponsor for the third consecutive year," said John Cable, director of the Project Management Center for Excellence. "We are honored to team up with fellow project management experts from the Washington-Baltimore area to advise organizations working to support a greater good."
Last year, the event drew more than 180 project management volunteers who donated their time and specialized expertise to 40 organizations working to improve quality of life in and around the nation's capital. Project Management for Change estimates that the one-day event generated $700,000 in benefits for the community.
In each consultation session, project management subject matter experts met individually with representatives of the participating nonprofits to review prepared "problem statements," identify potential roadblocks, develop clearly defined scope statements, and create actionable, customized project plans that served as blueprints for business sustainability.
"On this national day of service, the D.C. PMDoS event provides an outlet for all of the outstanding project managers in the Washington-Baltimore area to give back in their area of expertise" said Kendall Lott, co-founder of Project Management for Change. "At the same time, our local nonprofits reap the benefits, which in turn helps the community as a whole."
Sponsorship, volunteer, nonprofit participant, and charitable opportunities are still available. More information is available online at www.pmdos.org.
Published January 9, 2018