Fourth Annual Project Management Symposium Draws Record Crowd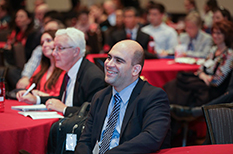 Project management professionals from as near as D.C. and as far as Australia came together May 4-5 to share best practices, discuss lessons learned, and discover the latest advances in the field at the University of Maryland (UMD) Project Management Symposium. More than 300 people were in attendance, the largest number in the event's four-year history.
Hosted by the Project Management Center for Excellence in the Department of Civil and Environmental Engineering (CEE), the Project Management Symposium featured over 50 technical sessions on a broad range of topics: people in projects, construction management, federal programs, agile/IT, integrated project management, risk and big data, education, and stakeholders.
"The diversity of the session topics allows professionals from all aspects of project management to gain insight into the challenges other agencies experience and what processes were implemented to overcome them," said Andrew Van Der Stuyf, assistant director of project management for UMD's Department of Residential Facilities and an alumnus of the Office of Advanced Engineering Education's project management master's program.
According to John Cable, director of the Project Management Center for Excellence, such diversity can be credited to leading minds eager to share experiences and dedicated partners.
"We are extremely pleased that interest in this symposium from both presenters and participants grows with each successive year," said Cable. "I think it is a testament to practicing professionals' thirst for substantive information."
Three of the five technical tracks were planned in collaboration with sponsors, ensuring presentations targeted audience experiences and questions more effectively. The Federal Programs track was sponsored by the Project Management Institute's Government Relations Office, the College of Performance Management sponsored the Integrated Project Management track, and the Construction Management/BIM track was sponsored by the Maryland Center for Construction Education & Innovation.
Topic diversity was also a hallmark of the featured presentations staggered throughout the two-day event.
Jeff Gravatte, CEO and owner of CADD Microsystems, kicked off things off with a discussion of technology trends affecting building design and construction project management. NASA Goddard Space Flight Center's Stephen Shinn took the stage during lunch to share strategies that aid project success in a changing environment, while Patricia Carper from Whiting-Turner later presented lessons learned from the $1.3 billion development of the MGM National Harbor in Oxon Hill, Maryland.
Karl Wunderlich of Noblis and Lisa Blumerman, associate director for the decennial census at the U.S. Census Bureau rounded out the featured presentations on May 5. Wunderlich discussed his ideas for how to reduce risk and meet consumer demands as connected and automated transportation continue to transform vehicles and how they are used. And Blumerman offered attendees a detailed, behind-the-scenes look at the planning, coordination, and science needed to get an accurate population count every 10 years.
The breadth and depth of coverage featured at the Project Management Symposium, along with its proximity to the nation's capitol, is what initially drove many to register for the event and encourage their colleagues to do the same.
"This conference is really important to the Census Bureau and to our certified program managers. The fact that it's local, that it's so thorough—it's a great opportunity for continued development for our staff." said Blumerman, who was joined by more than 50 additional Census Bureau employees.
For others, the success of the symposium stemmed from its unique blend of academic and practitioner presentations.
"The [symposium] is a great hub for scholars and practitioners to meet and share their latest technological/organizational achievements and cutting-edge visions," said Southern Alberta Institute of Technology's Shahab Moeini.
Regardless of what first drew them to the signature event, however, participants agreed that engaging speakers kept them motivated throughout.
"All the speakers have been great," said Tracy H. Miles, program manager of National Facilities Services at Kaiser Permanente. "I thoroughly enjoyed the People in Projects–Motivation session, in particular Jocelyn [Davis]. I thought she was a very engaging speaker. She really tried to draw out situations that people could relate to and that she could involve the audience in."
"The passion that everyone brings—the presenters and the conference goers—creates an inspiring atmosphere that fosters new personal and business relationships," explained John Johnson, Softek Enterprises, LLC. "Quality learning and quality people keep me coming back year after year."
Session presentations are available to download on the symposium website—simply click on the session name and look for the link in the left column. Videos of the featured presentations are also available through the individual speaker pages.
The fifth annual Project Management Symposium will take place May 10-11, 2018. Registration, as well as a call for speakers, will open in September.
Published May 23, 2017