Iribe Center Tour Brings Classroom Concepts to Life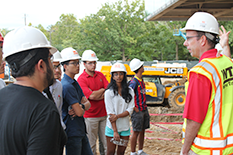 The view from the Brendan Iribe Center for Computer Science and Innovationunder construction at the corner of Baltimore Avenue and Campus Drive is striking. But the roughly 50 students who visited the location on September 14 weren't there to take in the sites. They weren't even there to learn about cybersecurity, computational biology, data science, or any of the other tech fields for which the building will soon serve as a hub. These students came to talk construction management with The Whiting-Turner Contracting Company.
The visit marked one of several times this semester that Introduction to Construction Project Management will welcome industry leaders. Taught by Stephen Wooldridge, adjunct faculty in the Project Management Center of Excellence, the junior-level course uses experiential learning techniques to educate students on basic topics in sourcing, planning, financing, designing, constructing, constructing, and operating facilities.
"Realizing ideas in a built form through the design and construction process is complex and multidisciplined," said Wooldridge. "To bring this process to life, ENCE 325 students are immersed in real-world projects and introduced to industry leaders who work everyday delivering them."
Throughout the tour, Whiting-Turner staff introduced students to the responsibilities of a Construction Manager at Risk, a project delivery method where a company commits to delivering the project within a guaranteed maximum price. The approach is one of four prominent in the construction industry.
Before the course wraps up in December, students will also learn from experts representing ARCO Construction, Jacobs, Clark Construction Group, and HITT Contracting.
Published September 20, 2017