UMD Solar-Powered House Bears Fingerprints of Civil Engineering Students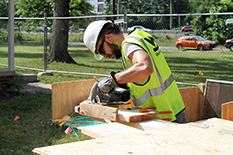 It's a common enough scene: a construction crew working long hours in the summer heat to stand up a new house. But this particular house, and those building it, are far from typical.
This is reACT, a solar-powered modular home designed and under construction by the University of Maryland (UMD) Solar Decathlon team.
"We are running in shifts 8 a.m.–8 p.m., six days a week," said Michelle Stanley, the team's engineering construction manager and a rising senior in the Department of Civil and Environmental Engineering (CEE). "It's an aggressive schedule, but it's what we need to be ready to compete in October."
The Department of Energy's Solar Decathlon is a biennial event that challenges student-led teams across the world to create innovative homes powered entirely by the sun. UMD and the other nine teams slated to compete in Denver on October 5-15 will be judged on elements such as architecture and engineering, market appeal and affordability, and communications.
But the roughly 400 faculty and students behind reACT—including a handful from CEE—have added an additional challenge. The house serves as a prototype for a home-building kit where separate components and systems can be readily adapted for a range of communities, ecological environments, and construction technologies.
A kitchen and bathroom serve as the core of the house, with all other spaces, including a courtyard and greenhouse, designed to be added or left off at the resident's discretion.
It's an innovative and elegant approach inspired in part by the realities of a demanding construction schedule.
"The house is built with structural insulated panels or SIPs [insulating foam sandwiched between two pieces of strand board], and we originally had the idea that we would construct most of the house with those onsite," explained Stanley. "It wasn't until we looked at the schedule that we decided to make things more modular."
"We only have eight days to build it in Denver," added Deputy Engineering Construction Manager Sean Richardson, who hopes to build a career in sustainable development and also serves as the team's deputy structural lead. "We are going to build it here, divide it into four parts, and then ship those parts to Denver to pull together."
The final design also bears the fingerprints of civil engineering students on the structural team. Led by Ana Vlajnic, who interns with the engineering consultancy Stantec, the structural team is tasked with keeping the house upright and in line with relevant building codes.
"The most difficult part of building in multiple locations is that we have to design for each," said Jessica Schroeder, a CEE member of the structural team set to graduate in May 2018. "This means consulting all the local, national, and competition codes and rules and ensuring that our structural design complies with all regulations. In many cases, the design values are different for different codes, so we have to choose the values that give us the most conservative answers."
Vlajnic, Richardson, and Schroeder were in constant communication with reACT's architects throughout the design phase, recommending tweaks when needed to ensure the structural integrity of the design. The window configuration in one design, for example, had to be altered to ensure the walls could withstand high winds, a competition rule.
reACT will be the fourth UMD-built house to compete in Solar Decathlon since the competition began in 2002. In 2011, the Terps brought home first place for their WaterShed project inspired by the complex ecosystems of the Chesapeake Bay.
Win or lose this year, though, CEE students involved in the project say the experience has accentuated their dedication to sustainable engineering.
"Students so rarely are able to be involved in a project this extensively. It's gratifying to bend over backwards for a project and be surrounded by those who have been doing the same," said Vlajnic. "This type of work is really my dream job, and having this experience has truly confirmed that."
Published June 21, 2017