Coming Together in the Name of Project Management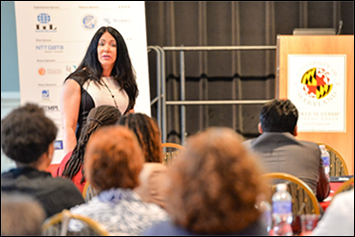 This June 8-9, project management professionals across all disciplines will gather to exchange insights and build connections at the second annual Project Management Symposium held at the University of Maryland in College Park, Md. Those interested in attending this year's star-studded event are strongly encouraged to register before the online deadline of June 1.
As a testament to the countless ways project management has evolved in recent years, this year's symposium covers topics ranging from sustainability, risk and big data, and public-private partnerships, to federal projects, agile and IT, and construction. In addition to nearly 60 keynote and session speakers, symposium attendees will also learn from their peers as they take part in a number of networking breaks and a one-of-a-kind opening night reception.
"Today, we are entering a new era in project management – Project Management 2.0 – where project information can be provided to everyone rather than just a select few," said Dr. Harold Kerzner of the International Institute for Learning and one of five featured keynote speakers. "Each project can have a different set of metrics and key performance indicators, as well as different dashboard reporting requirements. The ultimate goal is to reduce costly paperwork and see how close we can get to 'paperless project management' without sacrificing the integrity by which we manage the project."
Evidenced by this year's full agenda, the 2015 symposium program will address challenges project managers face as the field continues to grow in both popularity and complexity.
"Project management is implemented perfectly on few programs and projects, and in few organizations," said David Pells, President of PM World Inc. and a featured speaker at this year's symposium. Pells will lead a session titled, "Two Birds! A Simple Approach to Improving Program/Project Management Practice and Governance."
"Unfortunately, few managers and individuals can identify all internal weaknesses," he said. "In fact, mature program/project managers and project-based organizations understand that independent assessments and perspectives are needed at various points in the life cycle of every large program or project to ensure that important issues are not overlooked or ignored."
Driving home the value of different perspectives, this year's symposium agenda features experts from every discipline imaginable.
From Myles Miller, two-time bestselling author, and Emily J. Allen, Strategic Advisor for the MITRE Corporation, to William Bertera, Executive Director of the Institute for Sustainable Infrastructure, and Karen Carpenter, Senior Director at Thomson Reuters, this year's lineup is based around experts who are ready to tackle the many nuances of project management across the full range of disciplines.
"We are thrilled to welcome some of the brightest minds in project management for the capital region's second annual symposium," said John H. Cable, Director of the Project Management Center for Excellence. "Building on the tremendous success of our inaugural symposium, this year's event is custom-tailored to address the needs of 21st-century project managers of all career levels and sectors."
In addition to Kerzner, this year's keynote speakers are Jocelyn Davis, President and CEO of Nelson Hart; Chip Hastie, Vice President of Clark Construction Group, LLC; Ed Hoffman, NASA Chief Knowledge Officer and Karen Richey, Assistant Director for the Applied Research and Methods Team at the U.S. Government Accountability Office. The symposium will kick off with Kerzner's highly anticipated presentation, "Project Management 2.0: Planning for the Future of Project Management" and feature five educational breakout sessions and five networking breaks and receptions.
REGISTER TODAY since online registration ends June 1st. Onsite registration will be available but the cost for the event will be higher.
Registration and additional symposium details are available online at http://PMSymposium.umd.edu/.
Those interested in participating in either one or both days of the symposium are strongly encouraged to register before the online deadline of June 1 to take advantage of reduced rates and guarantee their seat, as this symposium is on track to draw a capacity crowd.
Published May 18, 2015