Phillips Recognized for Teaching Excellence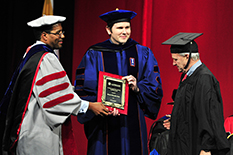 Assistant Professor Brian Phillips of the Department of Civil and Environmental Engineering is the 2017 recipient of the E. Robert Kent Outstanding Teacher Award for Junior Faculty. The award was given during the A. James Clark School of Engineering's Fall 2017 Commencement.
A Keystone Professor, Phillips continually receives high evaluations in his courses, which include a very time-intensive design class. He has advised 14 undergraduates, 17 master's students, and five Ph.D. students. Outside the classroom, the the steel bridge and concrete canoe teams that he advises regularly finish high in the Mid-Atlantic Regional Student Conference.
The recognition comes just a year after Phillips received the school's Student Competition Advisor of the Year Award.
Published December 22, 2017