CEE Faculty, Alumna Receive Emerald Research Methodology Award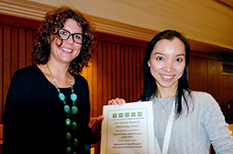 Department of Civil and Environmental Engineering's (CEE) Qingbin Cui and Jocelyn Davis were awarded the Emerald Research Methodology Award at the Association of Researchers in Construction Management Conference. Collaborator and CEE alumnae Clara M. Cheung from the University of Manchester was also named in the award.
The team was recognized for their investigation of the relationships between organizational factors, personal resources, and project manager happiness. An analysis of self-reported data from 227 project management professionals revealed that work environment and meaningful work were strong predictors of a project manager's happiness. Results showed that personal growth, meaningful work, and positive work relationships could also mediate the effect of the work environment on happiness.
Their approach will enable construction researchers to conduct happiness studies based on a more well-defined measurement, which in turn will lead to a better understanding of what leads to workplace happiness for project managers.
Cui and Davis are members of the University of Maryland Project Management Center for Excellence.
Published September 14, 2017