UMD Engineers Answer Questions about Record-Breaking Harvey, Flooding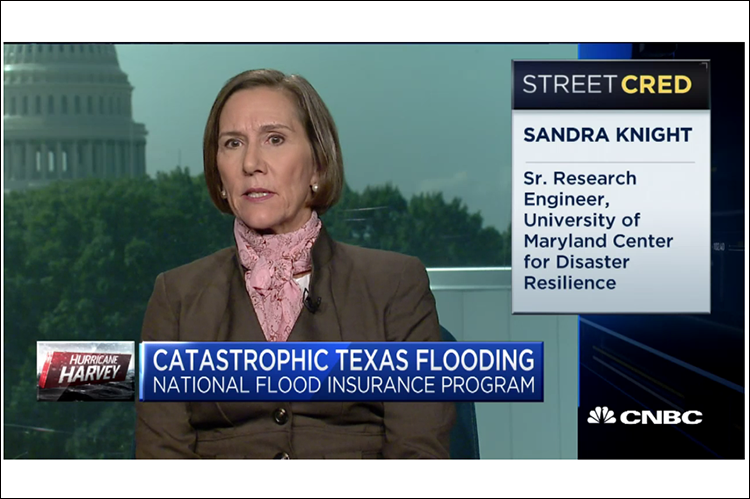 Hurricane Harvey unloaded more than 50 inches of rain in parts of Texas, the greatest amount ever recorded in the lower 48 states from a single storm.
National and local news outlets turned to University of Maryland engineers for their disaster expertise to include in the narrative of this most extreme rain event in U.S. history. Senior Research Engineer Sandra Knight, Research Professor Gerald Galloway, Assistant Professor Allison Reilly, and Professor Bilal Ayyub, all of the Clark School's Department of Civil and Environmental Engineering and Center for Disaster Resilience, were interviewed by The New York Times, The Washington Post, and others.
Read and watch more by exploring the links below.
The New York Times, A '500-Year Flood' Could Happen Again Sooner Than You Think. Here's Why., August 28, 2017
The Washington Post, Houston's 'Wild West' growth: How the city's development may have contributed to devastating flooding, August 29, 2017
WTTG-TV, Could Texas-level flooding happen in DC?, August 29, 2017
Bustle, What Is A 500-Year Flood? Post-Harvey Rainfall Is Drowning Parts Of Texas, August 29, 2017
CNBC, Facing at least $10 billion in flood insurance claims: Former FEMA deputy admin., August 30, 2017
HuffPost, Climate Change Has 'Loaded The Dice' On The Frequency Of 100-Year Floods, August 30, 2017
E&E News, The myth of the 100-year flood, August 30, 2017
Washington Examiner, Blame Harvey's torrential rain, not development, for massive flooding, planning experts say, August 30, 2017
Climate Liability News, As Harvey's Price Tag Skyrockets, a Reckoning on Climate Costs Looms, September 2, 2017
Tech Crunch, After Harvey, ignore the climate debate and focus on building better, more efficient cities, September 2, 2017
Phys.org, Urban sprawl in spotlight after historic Houston floods, September 2, 2017
The New York Times, After Andrew, Florida Changed Its Approach to Hurricanes, September 6, 2017
The Guardian, After the storm: how should cities rebuild post hurricanes like Harvey and Irma?, September 8, 2017
CBS This Morning, "500-year" rain events are happening more often than you think, September 8, 2017
WBUR On Point, After Irma, Extending Help to Hurricane Victims, September 12, 2017
Ensia, Will America's Trillion-Dollar Investment in New Infrastructure Withstand Tomorrow's Disasters?, September 14, 2017
Rolling Stone, What Happens When a Superstorm Hits D.C.?, September 21, 2017
WTTG-TV, Could Washington, D.C. survive if a major hurricane hits?, September 22, 2017
WTTG-TV, A deeper look into the levee system on the National Mall, September 22, 2017
Media interested in contacting Dr. Knight and/or Dr. Galloway are encouraged to email Melissa L. Andreychek, Assistant Director of Communications, here.
Published August 31, 2017