Masters of Engineering Student Shares Expertise at Project Management Day of Service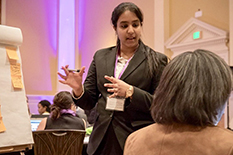 For the first time since its inception, a project management student from the University of Maryland (UMD) participated in the Project Management Day of Service (POMDoS) which has been held at the Stamp Student Union and hosted by UMD's Project Management Center for Excellence for the last three years.
Developed and organized by Project Management for Change, PMDoS is held each year on Martin Luther King Jr. Day and provides project management professionals the opportunity to give back to the community by assisting nonprofit organizations. This year, 150 project management professionals, plus one highly motivated UMD student, assisted 38 nonprofits with 44 different projects, which equates to 755 hours of pro bono project management services.
"Implementing my coursework in practical life was a great experience," said Masters of Engineering in project management student Vindhya Juvaa.
Read more on the Project Management Center for Excellece website.
Published February 2, 2018