Allison Reilly Joins CEE Faculty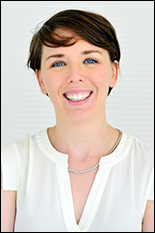 The Department of Civil and Environmental Engineering (CEE) and the A. James Clark School of Engineering welcomed Assistant Professor Allison Reilly ahead of the fall 2016 semester.
Reilly's research focuses on hazard risk assessments, decision-making, and infrastructure system performance and protection. She first became interested in these areas while serving as a risk analyst at the Homeland Security Institute, a federally funded research and development center for the U.S. Department of Homeland Security.
Prior to joining the University of Maryland, Reilly worked as a research fellow in the Department of Industrial and Operations Engineering at the University of Michigan, and as a post-doctoral research associate in the Department of Geography and Environmental Engineering at Johns Hopkins University. She completed her Ph.D. in civil engineering and infrastructure systems at Cornell University in Ithaca, N.Y., under the advisement of Dr. Linda Nozick. Reilly also holds an M.S. in civil engineering from Cornell University, and a B.S. in structural engineering from Johns Hopkins University.
Published August 31, 2016