Lovell Promoted to Full Professor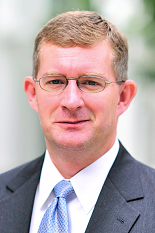 David Lovell, a joint appointee of the Department of Civil and Environmental Engineering (CEE) and the Institute for Systems Research (ISR) was promoted to the rank of full professor by University of Maryland President Wallace Loh on July 1.
Lovell, who joined the University of Maryland in 1997, focuses much of his research interests on transportation engineering, with applications in facility design, operations, and aviation traffic management. He has also conducted research on sensors, vehicle electronics, electrophoretic materials, and probabilistic studies in sports tournaments.
Lovell earned a B.A. degree in Mathematics from Portland State University in 1990, as well as M.S. (1993) and Ph.D. (1997) degrees in Civil Engineering from the University of California at Berkeley.
Published July 22, 2016