CEE Alumnus Awarded Eric Pas Dissertation Prize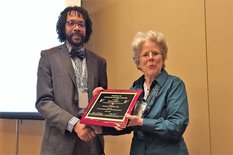 The International Association for Travel Behaviour Research (IATBR) has awarded Michael Maness first prize in the 2015 Eric Pas Dissertation Prize competition.
Maness, who recently completed a postdoc at the Oak Ridge National Laboratory, earned his Ph.D. from the University of Maryland, where he worked with Cinzia Cirillo, in May 2015. His dissertation was one of 19 nominated for the award.
"This thesis is a must read for those interested in social interactions in travel and activity behavior modeling," said the awards committee.
The committee noted the contribution Maness' research has had in the area of transportation modeling and travel behavior. Perhaps most notably, his work demonstrates that an individual's broader social network is a better predictor of leisure travel than their close network and that known regional differences in bicycle ownership are in part the result of feedback loops that drive people living in areas of high use to purchase bicycles themselves.
"His formal modeling work is very rigorous and can be built upon by a next generation of scholars," noted one reviewer.
Maness has been published in the Journal of Transport Geography and Transportation Research Part B: Methodological.
As an award recipient, Maness has been invited to present his research at the 2018 IATBR triennial conference in Santa Barbara, California.
"I'm proud to have been chosen for this award," said Maness. "I'm aware of the work of some of the other nominees and know that it is very good research. It is nice to see that a research plan I developed was reviewed so well by my peers."
Published January 3, 2017