Professor G.B. Baecher Co-Authors New Book on Dam Safety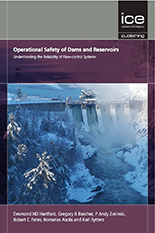 Professor G.B. Baecher of the Department of Civil and Environmental Engineering (CEE) has co-authored a new book on safety risks associated with hydropower dams and reservoirs.
Operational Safety of Dams and Reservoirs brings together a broad range of knowledge from key areas in dam and reservoir safety, spillways and flow-control to provide new analytical tools to understand operating risk in hydropower and dam safety. The book focuses on professionals and practitioners who specialize in dams, major reservoir owners, inspecting and supervising engineers and plant and equipment suppliers.
Baecher received his BSCE from the University of California, Berkeley and PhD from MIT. From 1995 to 2003 he served as Chair of CEE and is now the G.L. Martin Institute Professor of Engineering. He works on risks related to civil infrastructure, particularly in the water sector.
Thomas Telford Ltd., the publishing arm of the Institution of Civil Engineers in the United Kingdom, is a leading provider of authoritative and comprehensive information for professionals and academics in civil engineering and construction. Its publications include multi-author reference works, state-of-the-art reports, technical books, conference proceedings and contract documents.
For more information, visit go.umd.edu/52y.
Published December 23, 2016