Students Connect Classroom Learning to Real-World Challenges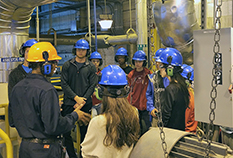 Roughly 70 civil and environmental engineering students braved the rain April 6 to tour the University of Maryland Combined Heat and Power Plant. Located off Route 1, the small plant provides up to 90 percent of campus's energy by burning natural gas to produce steam and electricity simultaneously.
The unique opportunity was one of several hands-on learning activities rolled into the Engineering for Sustainability course curriculum this semester by instructor Natasha Andrade.
"The thing I like most about this class is how we take a lot of the chemistry and physics we have learned and apply it to real-world engineering problems," said Maxwell Deyoung, a sophomore in the Department of Civil and Environmental Engineering (CEE).
A required course for CEE majors, Engineering for Sustainability challenges students to think critically about energy consumption, water and air quality, material choice, infrastructure design, and other key elements of sustainability.
"The path to sustainable development depends heavily on civil and environmental engineers," said Andrade. "If I am successful at my job, my students understand at the end of the semester that they can significantly impact our future."
In addition to last week's tour, students also travelled to the Energy Research Building in March to learn about solar power generation from Institute for Research in Electronics and Applied Physics Director of Technical Operations Bryan Quinn.
"I always thought solar panels were built in the same way as the batteries for hybrid cars—hard and intensive to make," said James Grace, a junior who later hopes to become licensed as a professional engineer. "But then we saw how they are built and made. They are easy to produce and put out a lot more energy than I thought they did."
The group is also slated to explore rain gardens across campus before the end of the semester.
Published April 11, 2017