Galloway to Co-Chair National Academies Committee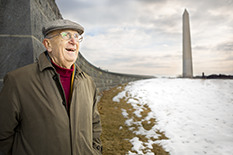 The National Academies of Sciences, Engineering, and Medicine has named Department of Civil and Environmental Engineering Glenn L. Martin Institute Professor Gerry Galloway co-chair of a new study committee charged with identifying effective ways to measure the resilience of a community to natural hazards and other disruptions. Galloway will co-lead the committee's efforts with retired U.S. Coast Guard Admiral Thad W. Allen.
The committee is expected to compare various agency and non-governmental organization approaches for measuring resilience, examine measurement work already underway, discuss lessons learned with community decision makers, and more. The two-year study will end with recommended measurement approaches useful to a range of communities, along with advice for overcoming measurement challenges and next steps for future programs.
The group's first meeting took place in early March. Members include experts from academia, research think tanks, nonprofits, and engineering consultancies.
Galloway is an associate with the University of Maryland (UMD) Center for Disaster Resilience and an eminent scholar and visiting professor at Texas A&M Galveston Campus. He joined the UMD faculty following a 38-year career in the U.S. Army, retiring as Brigadier General, and served eight additional years in the federal government, most of which was associated with water resources management.
Published April 3, 2017