Galloway to Give National Academies' Abel Wolman Distinguished Lecture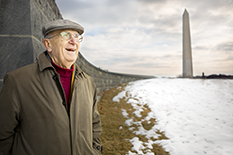 Glenn L. Martin Institute Professor of Engineering Gerry Galloway will deliver the 2017 Abel Wolman Distinguished Lecture December 5. Hosted by The National Academies of Sciences, Engineering, and Medicine's Water Science and Technology Board, the lecture series has honored the life and career of sanitation pioneer Abel Wolman since 1990.
As an expert in global flooding and sea level rise, Galloway will outline major challenges faced by U.S. officials charged with managing water resources and offer insight into potential solutions.
Galloway has provided expertise to national, regional, and local officials in the United States, China, and Europe. An affiliate of the Center for Disaster Resilience, his work focuses on sustainable infrastructure development and water resources policy and management under climate change. Galloway joined the University of Maryland following a 38-year career in the U.S. Army, retiring as Brigadier General. During his time in the Corp of Engineers, he served as district engineer for the U.S. Army Corps of Engineers in Vicksburg, Mississippi and later as a presidential appointee to the Mississippi River Commission for seven years. Galloway is also an eminent scholar and visiting professor at Texas A&M University at Galveston and a member of the National Academy of Engineering.
The lecture will begin at 6:30 in room 120 of the National Academy of Sciences building at 2101 Constitution Avenue Northwest in Washington, DC.
Published December 5, 2017