Bilal Ayyub Recognized for Research on Ship Survivability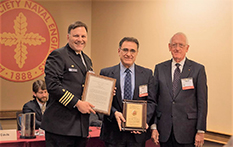 The American Society of Naval Engineers has awarded University of Maryland professor Bilal M. Ayyub the 2016 Solberg Award for his research in the field of ship survivability.
Presented annually since 1967, the Solberg Award recognizes significant contributions to naval engineering through personal research during the three years prior.
"I am indeed most fortunate to receive this honor and appreciative for the support of the Department of Civil and Environmental Engineering and the Clark School," said Ayyub, who also serves as director of the Center for Technology and Systems Management.
Ayyub's research on risk and uncertainty in engineering systems has contributed to leading changes in standards and professional practices. His work has influenced the American Bureau of Shipping classification rules and Navy rules on reliability-based ship design, led to guides, technical papers, and software that aid the lifetime-performance sustainment of ship structures, and advanced the protection of critical infrastructure. Ayyub is also relied on for expert opinion on resilience economics, sustainability, and risk finance.
Ayyub is a quadruple recipient of the American Society of Naval Engineer's Jimmie Hamilton award for best paper published annually in the Naval Engineers Journal.
Published March 6, 2017