Featured Faculty: Cinzia Cirillo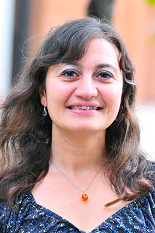 Generations of women have contributed to engineering, and Clark School women are proud to be part of that tradition. In honor of women's history month, the Clark School is celebrating one female engineering faculty member each day. Read about today's featured faculty member, Cinzia Cirillo.
Associate Professor Cinzia Cirillo is an expert in transportation demand analysis, forecasting, and planning. Her work includes the development of improved transport modeling techniques and survey instruments as well as the application of statistical and econometrics methods and analysis of their results to predict consumer demand and behavior.
Cirillo is a faculty researcher with the University of Maryland National Transportation Center and a regular contributor to the Transportation Research Board Annual Meeting in D.C. One such presentation at the 2016 meeting focused on a paper authored by Cirillo and doctoral student Yan Lui.
"Modeling Green Vehicle Adoption: An Integrated Approach for Policy Evaluation" forecasts households' future preferences on vehicle type, quantity, and usage and estimates greenhouse gas emissions based on data collected from a 2014 survey conducted in Maryland. An analysis of the impact of two taxation policies on vehicle use and emissions revealed that while both taxes reduce annual vehicle miles of travel, gasoline texes are more effective than ownership taxes in reducing greenouse emissions.
Published March 7, 2017