American Concrete Institute Names University of Maryland Chapter Outstanding University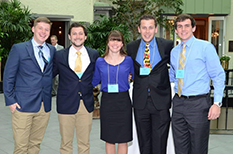 The University of Maryland (UMD) Chapter of the American Concrete Institute (ACI) was awarded Outstanding University status earlier this month in recognition of their 2016 contributions to ACI-related activities.
Formed in 2015 under the Maryland Chapter of ACI, the UMD student organization aims to expand education in concrete and enhance civil and environmental engineering coursework with opportunities to learn from industry professionals and gain practical, hands-on experiences.
"We are very pleased to have been named an Outstanding University, and hope next year to expand our contributions enough to earn Excellent University status," said Wing-Mei Ko, an undergraduate research assistant in the Department of Civil and Environmental Engineering Environmental Engineering Laboratory and president of UMD's ACI chapter.
The student group, which had nine student members registered with the national organization in 2016, was recognized in part for its participation in Maryland Chapter meetings, industry events, and concrete mixture design competitions. Several members were part of the UMD team that competed in the National Concrete Canoe Competition after coming in first at the Mid-Atlantic Regional Competition.
And chapter members hope another active participation year—including designing concrete mixtures for the Strong University Competition at the end of February—will lead to Excellent University status in 2017.
Published February 15, 2017