D.C.-Area Nonprofits Tap Into Local Expertise at Project Management Day of Service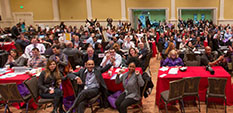 Representatives from 45 nonprofits teamed up with 220 project management experts January 16 to write and codify strategic goals, create fundraising plans, or take additional steps towards boosting worthy projects. Hosted by the Project Management Center for Excellence at the University of Maryland (UMD), the 2017 Project Management Day of Service (PMDoS™) provided an estimated $550,000 value to D.C.-area nonprofits.
"The impact is not just that my job is easier," said Adrienne Fikes, executive director of the Parent Leadership Training Institute of Alexandria, who worked with a team of volunteer project managers to develop a fundraising strategy. "It's all the parents and kids who will be able to join our program in the years to come because we have an effective fundraising strategy."
The event was led by Project Management for Change (PM4Change) in partnership with five D.C.-area Project Management Institute chapters. For the second consecutive year, UMD's Project Management Center for Excellence was the host and leading sponsor of PMDoS.
"We are very pleased to be able to support this event in which project managers help the nonprofit community" said John Cable, the center's director.
"Today was such a rewarding experience," said Ivonne Fuller Cameron, CEO of Hepatitis Foundation International, one of 20 Maryland nonprofits represented at the event. "My team took the ocean and helped me boil it down into a single project that I know we can implement this year."
In each consultation session, project management subject matter experts met with representatives of the participating nonprofits to review prepared problem statements, identify potential roadblocks, develop clearly defined scope statements, and create actionable, customized project plans that serve as blueprints for business sustainability.
"This is our third year participating in this event, and each year we've had fabulous results," said Mana McNeill, executive director and cofounder of Career Catchers.
Published February 2, 2017