Skibniewski Shares Construction Engineering Expertise at International Conferences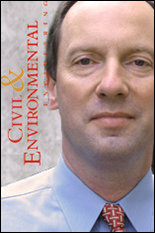 Department of Civil and Environmental Engineering Professor in Construction Engineering and Management Mirosław Skibniewski was named a keynote speaker for upcoming civil engineering conferences in Canada, Poland, and Hong Kong.
Skibniewski will present at the First International Conference of the Industrialization of Construction, taking place May 19-21, in Edmonton, Alberta, Canada.
Skibniewski will travel to Krakow, Poland to serve as a keynote speaker for the 2015 Creative Construction Conference, taking place June 21 – June 24. Chairman of both the International Advisory Board and International Scientific Committee for the Creative Construction Conference, Skibniewski will present, "'Publish and Flourish' vs. 'Publish or Perish': A Survival Dilemma for Construction Researchers."
Skibniewski will also travel to Hong Kong, where he will serve as a keynote speaker for the 3rd International Conference on Civil Engineering, Architecture and Sustainable Infrastructure. Skibniewski is also an academic chair for the International Conference for Sustainable Development and Management, taking place June 28-30 in Hong Kong.
Published February 19, 2015