National Media Highlights UMD Hurricane Research, Wind Tunnel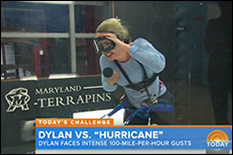 With hurricane season in full swing, University of Maryland (UMD) A. James Clark School of Engineering and Department of Atmospheric and Oceanic Science (AOSC) experts accompanied national and local media to UMD's Glenn L. Martin Wind Tunnel to explain why "it only takes one storm" to expose a region's infrastructure vulnerabilities and emergency response challenges.
Joined by the TODAY Show's Dylan Dreyer, as well as reporters from USA TODAY and metropolitan area broadcast outlets, UMD researchers set out to demonstrate how hurricane force winds – as well as flooding and storm surge – could spell trouble for coastal and riverine communities, and even the nation's capital.
"Anywhere on the Gulf Coast to the upper East Coast, we're all vulnerable," said Dr. Antonio Busalacchi, Professor of Atmospheric and Oceanic Science and Director of UMD's Earth System Science Interdisciplinary Center.
While early reports indicate this year's North Atlantic hurricane season could carry fewer named storms than the historical average, both Busalacchi and Clark School engineers warn this is not the time to scale back on storm preparedness and resilience measures.
"It matters little what the number of named or major hurricanes expected for the 2015 season might be," said Dr. Sandra Knight, Department of Civil and Environmental Engineering (CEE) Senior Research Engineer and Director of UMD's Center for Disaster Resilience. "Some of the nation's costliest storms – including Hurricane Sandy – were Category 2 or lower when they made U.S. landfall."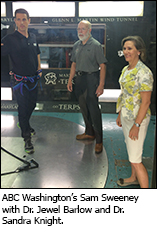 With the help of Glenn L. Martin Wind Tunnel Director and Department of Aerospace Engineering Associate Professor Dr. Jewel Barlow and his researchers, Dreyer and others experienced up to 115 MPH wind speeds, demonstrating for viewing audiences just how powerful a Category 2 storm can be.
Wearing a harness strapped into bolts in the tunnel floor, one at a time, each of the reporters experienced how even sustained tropical storm force winds would make it very difficult for a person to stand, walk or even speak. As Barlow and his team slowly raised the wind speeds, each of the daring media personnel illustrated why a storm not classified as a "major hurricane" can still pack a serious punch – one that would cause significant damage and risks to human life.
In fact, a direct hit by a hurricane could spell calamity even for the Washington metropolitan area, Knight warned.
"Many people in the D.C. area do not realize that they're actually in a tidal zone and that they are subject to coastal inundation," she said. "Often, they feel like they are far away from the beach, so they are not at risk, but D.C. is certainly impacted by tides and coastal storms. The first step toward building resilience in the capital region is raising awareness to the fact that this is a coastal region, subject to many of the same risks shoreline communities face."
Even with the recent completion of Washington's 17th Street flood levee – designed to reduce risk to human safety and critical infrastructure from Potomac River flooding – floods pose a major concern throughout the area.
"The largest flood ever recorded in Washington, D.C. reached 7.9 feet in the early 1930s," Knight said. "But, unprecedented storm surge could threaten billions of dollars' worth of property, including critical infrastructure, national icons, and national security interests. When you factor in the impact of climate change and rising sea levels, you realize that a direct hit from even a Category 2 hurricane could carry a significant amount of risk in the nation's capital."
While the 17th Street levee serves to protect downtown Washington in the event a 100-year storm should hit the Potomac region, interior flooding – such as that resulting from heavy rainfall – is still a major risk. Even more, a significant weather event in the nation's capital could have a spillover impact on other areas across the East Coast.
"Washington presents a unique scenario," Knight said. "In addition to concerns over human safety and property, residents, emergency responders and policymakers must also consider how a major weather event in the capital region could impact government operations, national security, transportation systems, and the economy. For instance, a direct hit from a major hurricane could put military bases and Department of Defense facilities at risk. A major weather event in D.C. could also impact travel and the transport of goods, and force a government shutdown that could cause a ripple effect on the national economy."
Such consequences only scratch the surface on why communities across the United States must build resilience, Knight said.
"Until the right measures and structural safeguards are in place, the odds a hurricane or summer storm could make a historical impact on the D.C. area – or another riverine or coastal community – will continue to rise," she said.
View the TODAY Show's, USA TODAY's, WTOP's, and ABC Washington's coverage from the Glenn L. Martin Wind Tunnel.
Published June 17, 2015