Second Annual Project Management Symposium Features NASA, U.S. GAO Keynotes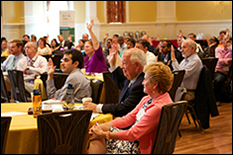 June 8-9, 2015, the University of Maryland's Project Management Center for Excellence welcomed nearly 150 project management professionals for the Baltimore-Washington region's only symposium to bring together academics with project management professionals under one roof.
Held at the Stamp Student Union at the University of Maryland, the event featured more than 55 esteemed speakers and covered topics ranging from public-private partnerships and sustainability, to risk and big data and agile and IT. Keynote speakers included Jocelyn Davis, President and CEO of Nelson Hart; Chip Hastie, Vice President of Clark Construction Group, LLC; Ed Hoffman, NASA Chief Knowledge Officer; Dr. Harold Kerzner of the International Institute for Learning; and Karen Richey, Assistant Director for the Applied Research and Methods Team at the U.S. Government Accountability Office.
"It is so exciting for us, year after year, to welcome some of the brightest minds in project management for the capital region's only symposium to bring together project management professionals and academics," said John H. Cable, Director of the Project Management Center for Excellence. "Building on the tremendous success of our inaugural symposium, this year's event was tailored to meet the needs of 21st-century project managers of all career levels and sectors."
To start things off with a look into the future of project management, Kerzner offered an opening presentation on what he refers to as Project Management 2.0.
"For more than four decades, we relied solely upon time and cost as the only two metrics needed to manage a project," Kerzner said. "We knew that time and cost alone could not determine the project's health, nor were they a good indicator of project success or failure. Today, however, we are entering a new era in project management, where project information can be provided to everyone rather than just a selected few."
Kerzner talked about the early days of project management, and the challenges entering the field.
"When I was entering the industry, you couldn't be a project manager unless you had a Ph.D. in an engineering discipline," he said, noting that the field has evolved a great deal in a short period of time.
One of the most recent developments in project management is a shift toward paperless project management, Kerzner noted.
"We're now trying to eliminate as much documentation as possible," he said. "What will be the replacement for paper? The answer is dashboards on your computer."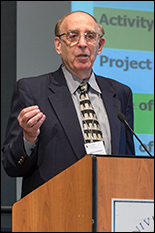 Kerzner also discussed the significance of what he calls "distributed collaboration," and noted that social media will play a bigger role in project management moving forward.
"One thing we don't want is for people to have to read through pages of reports to find out the status of a project," he said. "We need to be able to go paperless. We need to provide metrics so that executives can make decisions based on evidence rather than guesswork. The growth of project management is inevitable, and the definition of success is changing."
The evolution of project management was discussed in great deal throughout the two-day symposium, which featured nine breakout session tracks.
Allen Price, President of Price Virtual Project Management Inc. and author of "Realities of Project Management and USERcentric Systems," addressed this theme by beginning his session asking audience members, "Is project management an art or a science?"
In his presentation, "How to Be a Winner in Today's Project Management World," Price discussed the six cornerstone concepts of "soft skills" as they are integrated into the discipline of project management: motivation and value-based goals, art and science, project rescue, ethics and integrity, teams and attitude.
"You all can make a difference," he told the audience. "If you can't change your fate, you can change your attitude – that's important to remember. Believing in dreams is a good part of successful project management. It is your dreams that will take you towards your vision."
Further driving home the fact that one's mindset can impact their success in project management, Jocelyn Davis, President and CEO of Nelson Hart, LLC, presented "Happiness Works – Rethinking Competitive Advantage" as this year's second keynote speaker.
"We want to move away from thinking about projects as being strictly profit-driven," Hart said. "We want to consider organizations successful if they have profitability, if the people are sustainable, and if there is a sense of purpose."
Hart noted that the American Psychological Association reports that 60 percent of people in organizations experience very high levels of stress each month, and the net effect of unresolved high levels of stress is about $300 billion a year in lost productivity due to illness, absenteeism, or people who show up to work as "present but not quite accounted for."
"I am not suggesting we eliminate stress," Hart said. "Stress is inevitable. If we don't get stress, we'll likely get nothing done. We are hard-wired to be able to deal with extraordinary stress in order to survive. What we are not capable of doing is living in the red zone of high stress all the time."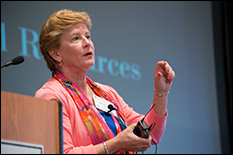 Hart noted that understanding this balance is key to maintaining a productive work environment.
"If a job is perceived as being way out of one's reach, there is a point of diminishing return relative to a person's motivation," she said.
Shifting gears, Hastie offered a real-life example of the many challenges impacting the project management discipline.
With Clark, Hastie served as Project Executive for the Governor George Deukmejian Courthouse, the first social infrastructure project in the U.S. procured using the Performance Based Infrastructure (PBI) delivery method.
The project was executed on an accelerated basis, roughly two years faster than typical California court construction, and included a number of unusual stakeholders associated with the unique approach and 35-year concession term, Hastie noted.
"PBI represents a unique subset of public-private partnerships that captures long-term upkeep and associated operational performance guarantees," he said, noting that the project was one-of-a-kind in its delivery method and the challenges it raised.
On day two of the symposium, Hoffman offered the first keynote presentation, "Creating Knowledge Services for Modern Technical Project Organizations: the REAL Knowledge Approach."
In discussing the techniques for organizing project knowledge, he touched on five key aspects: strategy, community, governance, roles and responsibilities, and tools.
"We now live in a world that is so complex that we work in systems of systems," he told attendees. "The information we get from others can either help us to be successful or lead us to failure… It is really important in terms of what we do that there is some connection to process and policy."
Hoffman also discussed the importance of identifying techniques for problem-solving.
"I think that project management is going to focus more not only on maintaining the expertise we have in the discipline, but also, how do people get that information, how do people adapt, and so forth," he said.
Richey, the final keynote speaker of the symposium, offered a similar message drawing from her experiences with the U.S. Government Accountability Office.
"Project management's success requires reliable schedules," she said. "Developing an integrated schedule is key for managing program performance and determining the work that remains and its expected cost. Therefore, a program's success depends on its having a reliable schedule of when its set of work activities and milestone events will occur, how long they will take, and how they will relate to one another."
Building on the success of this year's symposium, the Project Management Center for Excellence looks forward to expanding the event in its third year, May 12-13, 2016.
"We are proud to think that our Project Management Center for Excellence is different," said A. James Clark School of Engineering Dean and Nariman Farvardin Professor of Aerospace Engineering Darryll Pines. "Not only is it the first in an engineering school to be accredited by the Project Management Institute's Global Accreditation Center, but our center is uniquely positioned to foster cross-industry education and the open exchange of lessons learned in project management. The Center's tagline, 'Academically Rigorous and Practically Applied,' illustrates how our project management program lays the groundwork for a one-of-a-kind partnership between academe and industry, benefitting the fields of project management and engineering at large."
View the full photo gallery from UMD's 2015 Project Management Symposium online.
Published June 12, 2015