Schneider Receives Carapace Award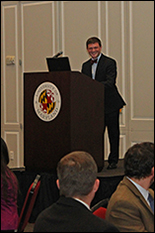 On June 13, Department of Civil and Environmental Engineering senior Jonathan Schneider (B.S., '15) was awarded the University of Maryland Alumni Association inaugural Carapace Award.
Established to honor a graduating student who has done great work for the campus community, the Carapace Award also seeks to foster Terp pride post-graduation.
Schneider had a tremendous impact on the UMD community throughout his undergraduate career. A member of two Alumni Cup competition teams, including CEE's 2014 first-place team, he also served as President of the University of Maryland American Society of Civil Engineers (ASCE) Chapter, a peer mentor, and President of his Living & Learning Community.
Schneider also helped the Engineering Alumni Network raise more than $6,500 for student outreach programming, and helped establish ASCE Maryland's first-ever Suit Up & Be Civil event.
Although he is planning to pursue a master's degree in Transportation Engineering from University of California, Berkeley, Schneider will always be a Terp at heart.
Published June 23, 2015