UMD Opens MakerBot Innovation Center to Foster Entrepreneurship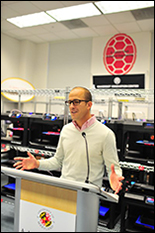 On Thursday, April 23, the University of Maryland's A. James Clark School of Engineering opened a MakerBot Innovation Center, making UMD home to the first center of its kind in the Baltimore-Washington region and the sixth university-based MakerBot Innovation Center in the world.
"What we're seeing here is the future of manufacturing in this country," said Darryll J. Pines, Nariman Farvardin Professor of Aerospace Engineering and Dean of the A. James Clark School of Engineering. "The University of Maryland MakerBot Innovation Center gives our students an edge in the changing and adapting marketplace. We see 3-D printing as a catalyst for new thinking and are excited to make this technology more broadly available at the University."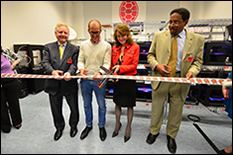 Open to the entire UMD community, the center adds over 50 3-D printers to the 25 previously available in the Clark School and brings the number of 3-D printers across campus to approximately 100. Print jobs can be uploaded to the cloud and sent to the center by anyone on campus.
UMD has utilized 3-D printing in an educational setting for many years. Clark School faculty, staff and students have worked on projects including vascular grafts, over-sand hovercrafts, prosthetics, automobile parts and robotics. Examples include small-scale robots capable of removing hard-to-reach brain tumors, structures used aboard small helicopters that allow sensors to test for close obstacle avoidance and designing custom-fit protective sleep masks for glaucoma patients to minimize pressure on the face that could otherwise increase a patient's risk of blindness.
Having a large-scale installation of MakerBot 3-D Printers will allow the Clark School to further integrate 3-D printing into the curriculum and introduce more students to this important technology. Every freshman entering the Clark School will use the MakerBot Innovation Center as part of their required introductory course (ENES100), allowing them to get familiar with 3-D printing early on in their careers and as they quickly learn engineering concepts and principles that would otherwise be difficult to grasp.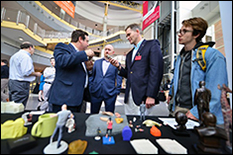 The official opening of the UMD MakerBot Innovation Center took place in the Technology Advancement Program building and preceeded a special 3-D printing and additive manufacturing showcase featuring students, faculty and friends. The day concluded with a Whiting-Turner presentation by Local Motors founder and CEO John "Jay" Rogers entitled, "Welcome to the Third Industrial Revolution—Local Motors and the 3-D Printed Car."
The opening of the MakerBot Innovation Center took place as part of UMD's 30 Days of Entrepreneurship, celebrating the university's Fearless Ideas, innovation and impact with a showcase of special events, lectures and contests.

Building Innovation and Entrepreneurship

Fostering a campus-wide culture of entrepreneurship and innovation that engages all 37,000 students is among the highest strategic priorities for UMD's President and Provost. The comprehensive effort includes offering 101 entrepreneurship related courses across 31 departments; holding 16 different business plan competitions; supporting students with 22 different mentoring programs; creating makerspaces and rapid prototyping spaces; and investing strongly in 3-D printers and scanners to provide the most advanced innovation infrastructure.
The MakerBot Innovation Center adds to and complements existing campus makerspaces and a rapid prototyping space in the Clark School. It will be a key resource for the colocated Startup Shell, a student-run co-working space and incubator, which has already produced over 60 student-founded startup companies. The MakerBot Innovation Center will provide more student entrepreneurs access to 3-D printing and accelerate the product development process by allowing students to iterate more quickly and cost-efficiently than with other prototyping resources already available on campus.
Press Coverage

Published April 27, 2015