Nasri Awarded Ann G. Wylie Fellowship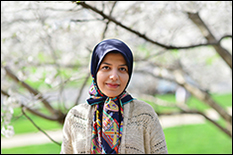 Department of Civil and Environmental Engineering Ph.D. student Arefeh Nasri was recently named the recipient of the Ann G. Wylie Dissertation Fellowship, an award offered by the graduate school to support outstanding doctoral students who are in the final stages of writing their dissertation.
Advised by CEE Professor and Director of the National Transportation Center at Maryland (NTC@Maryland) Lei Zhang, Nasri's dissertation focuses on the relationship between land-use and travel behavior. Nasri is investigating how the overall physical form of urban environment influences people's automobile ownership and use.
Nasri received her M.S. in Transportation Planning from Rutgers University in 2009.
Published April 30, 2015