Voice of America Spotlights CATT Lab's Traffic Management Technologies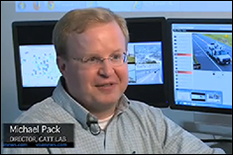 Earlier this month, Michael Pack, Director of the Center for Advanced Transportation Technology (CATT) Laboratory, sat down with Voice of America reporter George Putic to discuss how University of Maryland researchers are working to help authorities and private businesses manage and respond to traffic challenges.
According to Putic's report, Forbes.com recently revealed that traffic congestion cost Americans $124 billion in direct and indirect losses last year – and, that number is expected to rise tremendously in the next 15 years.
"For every one minute that a lane on a freeway is blocked, the chances of another accident occurring goes up about three percent," Pack told Putic in the report. "If we can get a first responder out to the scene even a minute quicker and get them to clear the accident a minute quicker, that reduces overall delays and congestion significantly."
Putic's report highlighted how the CATT Lab collects data from many sources, including roadside sensors and GPS equipment. Much of that data is translated into visualizations used to help first responders understand the causes and proper modes of response to traffic incidents.
The full Voice of America report is available online.
Published July 24, 2015