UMD Steel Bridge Team Builds Their Way to Nationals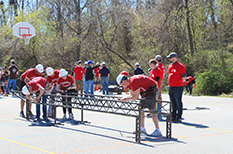 On a basketball court turned build site in Ellicott City, Maryland, engineering students from the University of Maryland (UMD) juggled speed and thoroughness on April 9 to construct the bridge that would secure them a spot at the national competition in Oregon.
The 13-person team placed second overall in the 2017 American Society of Civil Engineers (ASCE) Mid-Atlantic Regional Student Conference steel bridge competition. It's the second time in three years that the UMD team has advanced to nationals.
"I'm so proud of all that we have accomplished," said Scott Kearney, a graduating senior in the Department of Civil and Environmental Engineering (CEE) and one of two project managers who led the steel bridge team this year. "Our team worked incredibly hard—especially within the last week—to finish the bridge. There were some extremely long nights, but everyone was willing to help."
Together with a concrete canoe competition, the steel bridge matchup is the signature event of the Mid-Atlantic Regional Student Conference, organized this year by UMD's ASCE student chapter.
Seven teams from universities in Pennsylvania, Delaware, and Maryland constructed bridges on-site while balancing three sometimes opposing forces: weight, movement, and time. The ideal bridge is light, assembled quickly, and capable of being loaded with 2,500 lbs without bending too far down or moving too much side to side.
"Our strategy at the beginning of the year was to make the bridge easier to construct while sacrificing some weight," said Ben Seibert, steel bridge project manager. "We had a manufacturer delay that changed our strategy the week before the competition, but with the help of the team, we were able to adapt to the circumstances."
"This year's bridge is the epitome of problem solving," he added.
The award for best bridge went to Lafayette College, whose construction clocked in at under seven minutes. Lehigh University came in third.
A handful of the universities who fielded a steel bridge team, including UMD, also took part in the concrete canoe competition held at the same time.
After passing the "swamp test"—where judges confirm each vessel can float after being fully submerged—five teams tested their design, build, and rowing strength in male and female endurance races as well as male, female, and coed sprints.
Katie Edwards and Danielle Neumeister raced their way to second place in the women's endurance, while Katie and Nicole Michael came in third in the sprint.
"Concrete canoe is a unique project that gives students an opportunity to apply what they have learned in their classes," said Brian Gausman, who lead this year's team along with Garrett Kelly. "It is extremely fulfilling to watch a canoe that we spent almost an entire school year designing and building be raced against other universities."
The team also earned second place in the competition's final product category, which evaluates the display design and aesthetics of each canoe.
First place in the overall concrete canoe competition, though, went to University of Pittsburgh-Johnstown, followed by the U.S. Naval Academy and Pennsylvania State University.
But UMD's involvement this year extended far beyond the competitions themselves. For the first time in a decade, the university's ASCE student chapter hosted participating teams at the College Park campus and in nearby Centennial Park.
Coordination for the April 7-9 conference, which also featured a business meeting, professional and technical presentations, display contests, and a geowall competition, was led by Nathalia Henriquez, vice president of operations for the student group and a graduating senior.
"The University of Maryland had not hosted regionals since 2007, and we felt we were finally in the position to take on this challenge again," said Henriquez. "We believed it was important to demonstrate to our community here on campus why so many of us are driven to participate in these competitions and get involved in ASCE. Hosting this conference also allowed us to showcase our students and our university in a very unique way.
"My senior year was completely devoted to planning this event," she added. "But the success of it and knowing that everyone enjoyed their experience that weekend made it all worthwhile."
The ASCE Mid-Atlantic Regional Conference is part of ASCE's efforts, since 1852, to advance the civil engineering profession in building a better quality of life. ASCE student organizations help the next generation of civil engineers master needed skills as they enter the profession and set out to protect public health, safety, and welfare.
The 2017 conference was made possible by gold sponsors Bechtel, Gilbane, and Whiting-Turner and silver sponsors Arco Design/Build, Forrester Construction Company, Jacobs, KCI, Ligon & Ligon, Prime AE, ReStl Designers, Ruff Roofers, and WBCM. The UMD ASCE student chapter also received support from the civil engineering honors society Chi Epsilon and the Maryland Section of the American Society of Civil Engineers.
Published April 24, 2017