UMD Attends the 2011 EWB-USA International Conference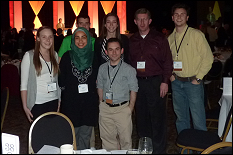 The EWB-USA UMD Student Chapter recently sent five undergraduate members and the chapter faculty advisor - Dr. David Lovell - to the 2011 EWB-USA International Conference in Louisville, KY. The conference was held from March 24-26, 2011.
The student members who traveled to the conference included:
- Kathleen Hendrick (Ethiopia Project Leader)
- Brett Jansen (Brazil Project)
- George Kinchen (Burkina Faso Project)
- Amy Palumbo (Fundraising Coordinator)
- Ethan Schaler (Project Manager)
The focus of the conference was on "Inspirational Engineering: Empowering Global Communities through Transformative Leadership" and featured a keynote speech presented by Bernard Amadei (Founder of EWB-USA) highlighting the creation of EWB and its early projects.
Attendees participated in numerous general sessions, charettes, and leadership workshops over the course of the three-day conference. UMD also had 3 posters on display at the conference, discussing the chapter's projects around the world.
Kathi Hendrick was recognized at the conference as one of 12 recipients of the CH2M HILL EWB-USA Scholarship. She was awarded a giant check as part of this scholarship. Reflecting on her experience at the conference, Kathi adds that, "The EWB USA 2011 International Conference was a great way to meet students and professionals from other chapters, and see the different projects they are engaged in. We are able to learn from each other and improve our chapter by sharing different experiences, attending forums and listening to guest speakers."
Dr. David Lovell participates in the EWB Faculty Leadership Council. He attended a council session at the conference to weigh in on pressing issues in the EWB-USA organization at the national level. Upcoming work of this council will focus on a review of the quality control process and the financial structure of the organization.
The 2012 EWB-USA International Conference will mark the 10th anniversary of EWB-USA and will be held in Las Vegas, NV.
LINKS:
Hendrick Receives CH2M Hill's EWB-USA Scholarship
Published March 31, 2011