Traffic Safety and Operations Lab Awarded $1.25 Million by Maryland State Highway Administration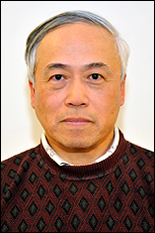 The Traffic Safety and Operations Lab, led by Department of Civil and Environmental Engineering Professor Gang-Len Chang, was recently awarded the Phase-III contract of $1.25 million by the Maryland State Highway Administration (MSHA) to continue the Applied Technology and Traffic Analysis Program (ATTAP) program and technical support to the Office of Traffic and Safety (OOTS-MSHA).
ATTAP program's focus is to develop design guidelines and evaluation procedures for unconventional intersections – an increasingly popular new design strategy to minimize the local arterial bottlenecks.
The focus of Phase-III, effective from Nov. 1, 2015, will be on customizing state-of-the-art control and operational strategies for MSHA to improve traffic safety and mitigate recurrent highway congestion. The core activities of this phase also include conversion of all ATTAP research products into operational tools to facilitate their applications. Additionally, the phase will involve work with OOTS engineers to assist other MSHA offices in determining how to best use the capacity of the state's transportation infrastructure systems.
Published December 15, 2015