Smile! Clark School Commencement to Stream Live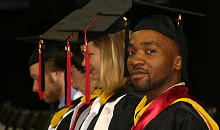 For the first time, the Clark School's commencement ceremony will stream live on the web and be available for mobile devices.
The ceremony will take place on Monday, May 21, at 4 p.m. Parents and family members who cannot attend will be able to view the ceremony from any location and the event will be archived on the web afterwards for viewing on demand.
The live stream of the event will be available at this link: http://ter.ps/ajcgrads2012
The ceremony also will be broadcast live on UMTV in Prince George's and Montgomery County. On campus, UMTV is Channel 38. Comcast customers can watch on Channel 73 in Prince George's County and on Channel 2 in Montgomery County. On Verizon, the event will be on Channel 40 in both counties.
Published May 14, 2012