Clark School Honors Its Own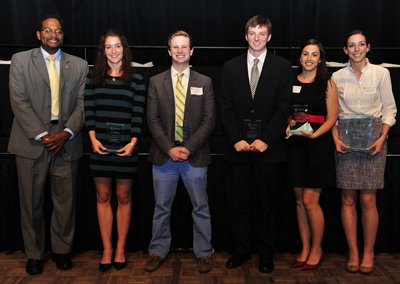 The following students were honored at the Clark School's annual Honors and Awards ceremony:
Kathleen Hendrick, a senior mechanical engineering major, received the A. James Clark School of Engineering Dean's Award. Hendrick is a university honors student with a 4.0 average. She has worked with the Engineers Without Borders program since her freshman year, and in January of this year led the Ethiopia team's effort to construct a pedestrian and livestock bridge over a stream that floods annually. A member of the QUEST program and a Clark School Ambassador, Hendrick has worked for several years as a volunteer tutor for a local high school student and as a teaching fellow for the Keystone Program.
Nicholas Weadock, a junior materials science and engineering major, received the Dinah Berman Memorial Award, which recognizes academic excellence combined with leadership or service to the Clark School. Weadock is an honors student who played a key leadership role in designing and operating the university's winning 2011 Solar Decathlon entry, WaterShed. He designed the heating, ventilating and air conditioning system and ran the house during the intensive 10 days of competition on the National Mall.
Andrew Sabelhaus, a senior mechanical engineering major, received the A. James Clark School of Engineering Leadership Award. Sabelhaus minored in computer science and performed research in a microrobotics lab, where he authored several conference papers. He will teach high school physics in New Orleans in the Teach for America program, and then go on to graduate school with a National Science Foundation fellowship. For the past two years, he has served as president of the university's chapter of "Out in Science, Technology, Engineering and Mathematics," a national organization for lesbian, gay, bisexual and transgender students.
Erin Hylton, a junior civil engineering major, received the A. James Clark School of Engineering International Student Award. Hylton is president of the university's nationally recognized chapter of Engineers Without Borders and of the Maryland Sustainability Engineering program. She was one of only 80 winners nationally of the prestigious 2012 Udall Scholarship, which is awarded to outstanding students committed to careers related to the environment, tribal public policy, or Native American health care. A university honors student and Banneker/Key Scholar, Hylton is an alumna of the Federal Semester Energy and Environmental Policy Program. As a Maryland Summer Scholar, she will travel to Brazil this summer to conduct research on hydroelectric dams.
Kristen Kern, a senior mechanical engineering student, received the Kim A. Borsavage and Pamela J. Stone Student Award for Outstanding Service. Kern is extensively involved in Clark School organizations, serving as a coordinator for the Clark School Ambassadors since her sophomore year and as a mentor in the Women in Engineering program. Kern is a teaching fellow for the Lean Six Sigma course, in which she led three teams in helping companies resolve problems using Six Sigma tools. She earned her College Park Scholars citation in the Science, Technology and Society program.
Published May 9, 2012