CEE Students Participate at 2012 ASCE Mid-Atlantic Competitions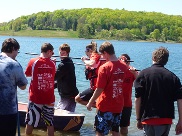 The ASCE (American Society of Civil Engineers) Concrete Canoe Competition provides students with a practical application of the engineering principles they learn in the classroom, along with important team and project management skills they will need in their careers.
The event challenges students' knowledge, creativity, and athletic stamina, while showcasing the versatility and durability of concrete as a building material.
The Steel Bridge Competition involves designing and building a 21-foot span bridge that can hold 2500 lbs of vertical load with minimal deflection. During the competition, timed construction and load testing events are used to score the bridge.
The ASCE student chapters at UMD entered this year's ASCE National Concrete Canoe and Steel Bridge Competitions, below is a summary of their achievements:
3rd Place - Technical Paper Presentation by Jamie Hyrkas
3rd Place - Steel Bridge Overall
3rd Place - Concrete Canoe Overall
1st in Men's Canoe sprint
2nd in Men's Canoe endurance
2nd in Women's Canoe Sprint
3rd in Women's Canoe endurance
2nd in Coed
Published May 14, 2012