Schwartz Delivers University of Illinois Kent Distinguished Lecture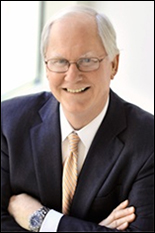 Department of Civil and Environmental Engineering Professor and Chair Charles W. Schwartz presented the 2015 Kent Distinguished Lecture at the University of Illinois at Urbana-Champaign on April 16.
In his talk, Schwartz discussed the structural characteristics and environmental benefits of asphalt-stabilized, cold-recycled pavement materials.
As noted on the University of Illinois website, cold recycling processes include cold in-place recycling (CIR), cold central plant recycling (CCPR), and full-depth reclamation (FDR). Foamed asphalt or asphalt emulsions are typically used as the stabilizing agent in these processes.
"The use of cold-recycled materials in the rehabilitation of asphalt pavements provides a significant environmental benefit by reducing greenhouse gas emissions," the website noted. "These reductions accrue from the use of recycled aggregates and the need for less added asphalt content. The materials also provide energy savings by eliminating the need to heat aggregates. With in-place recycling processes, the transport of materials from plant to jobsite is reduced, which further decreases emissions."
Full video of Schwartz's presentation is available online. Additional details about Schwartz's presentation are also available online.
Published May 2, 2015