Aydilek Receives Geosynthetics International Honorable Mention Award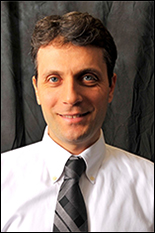 Civil and Environmental Engineering (CEE) Professor Ahmet Aydilek recently received the Honorable Mention Award for his article published in Geosynthetics International. The paper titled, "Laboratory evaluation of geocell-reinforced gravel subbase over poor subgrades" and co-authored by B.Tanyu, A. Lau, T.Edil, and C.Benson, was selected as the second-best paper among all published in the journal in 2013.
As stated in the paper, subgrade soils have a significant impact on the design, construction, structural response and performance of pavements. Nevertheless, problems arise during construction over poor subgrade soils, such as silt and clay soils that have low stiffness properties. Because subgrade soils influence pavement performance, proper preparation of soft subgrade prior to pavement construction is key, particularly in parts of the United States in which silt and clay soils are common.
To combat these challenges, Aydilek and his research group conducted large-scale experiments with cyclic loading to determine how the incorporation of high-density polyethylene (HDPE) geocells affects the rutting properties of working platforms and the resilient properties of a pavement structure over soft subgrades, such as silt and clay soils.
Currently, the most commonly used material to replace poor subgrade soils is crushed rock - large-size aggregate produced from mechanical crushing of quarried stone or reclaimed concrete.
Knowing this, Aydilek and his research team performed experiments with 225 mm- and 450 mm-thick unreinforced and reinforced gravel and a crushed rock that is typically used for conventional cut-and-fill working platforms. Afterwards, they simulated typical loading conditions, including the placement and use of construction equipment during construction, and post-construction traffic conditions over the asphalt pavement.
To compare the effectiveness of geocell-reinorced gravel with gravel reinforced by crushed rock, the team of researchers evaluated four different geocells filled with aggregate. Their findings indicate that geocell-reinforced gravel in many circumstances can eliminate the need for the construction of thick crushed rock layers to replace poor subgrade soils.
Published November 5, 2014