Romero Receives ACS Student Education Award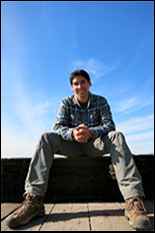 Civil and Environmental Engineering Ph.D. candidate Adrian Romero was named the recipient of a Student Education Award by the American Chemical Society (ACS) Division of Agrochemicals (AGRO Division).
Romero was awarded the opportunity to present his project, "Improving continuous monitoring of VOC emissions from alternative fertilizers" at the 13th International Congress of Pesticide Chemistry in San Francisco this August. Additionally, he received $800 to help fund his attendance and presentation.
Romero's presentation evaluates the effectiveness of online sensor technology to provide continuous monitoring of odorous volatile organic compounds emissions from biosolids. His presentation derives from his Ph.D. work in cooperation between CEE Professor Alba Torrents' lab and Agricultural Research Service-U.S. Department of Agriculture (ARS-USDA) labs.
Published July 2, 2014