Allen P. Davis to Chair National Academies Committee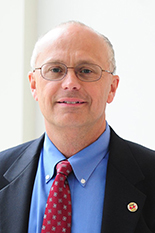 The National Academies of Sciences, Engineering, and Medicine has selected Department of Civil and Environmental Engineering Professor Allen P. Davis to chair a new study committee charged with advising the U.S. Environmental Protection Agency (U.S. EPA) on needed improvements to the national industrial stormwater permitting program.
Industrial facilities are required under the Clean Water Act to receive authorization to discharge stormwater runoff associated with manufacturing, processing, material storage, and waste material disposal. That authorization is given through the Multi-Sector General Permit for industrial stormwater discharges, part of U.S. EPA's National Pollutant Discharge Elimination System.
Allen and the other members of the National Academies' committee will suggest improvements to the current permit benchmark monitoring requirements, evaluate the feasibility of quantitative stormwater retention standards, and prioritize facilities or subsectors for potential additional discharge monitoring. A report will be delivered to the U.S. EPA by December 2018.
The Multi-Sector General Permit for Industrial Stormwater Discharges is one of three permit programs used to regulate stormwater that passes through a gutter, pipe, concrete canal, or other engineered conveyance—additional programs cover municipalities and construction sites. More than 4,000 industrial facilities nationwide are managed through this program, which also serves as the framework for dozens of similar state programs.
Davis is the Charles A. Irish, Sr. Chair in Civil Engineering and an internationally-recognized leader in stormwater management and treatment. His work has informed best management practices used by municipalities throughout the country. He is also the co-author of the book Stormwater Management for Smart Growth and serves as the inaugural editor for the American Society of Civil Engineers (ASCE) Journal of Sustainable Water in the Built Environment.
He is an ASCE Fellow, and Environmental and Water Resources Institute Fellow, and a diplomate of the American Academy of Water Resources Engineers.
Published October 16, 2017