CEE Student Receives 2018 Dean's Master's Research Award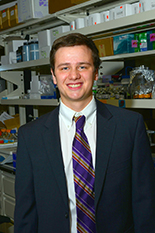 Aaron Leininger, an environmental engineering graduate student advised by Birthe Kjellerup, has been named the winner of the 2018 Dean's Master's Research Award competition. Created by Clark School Dean Darryll Pines, the competition recognizes distinguished graduate student researchers to propel their careers and demonstrate the value of high quality engineering research.
Student entries were judged by members of advisory boards in department-level competitions.
Leininger is developing a field-scale energy recovery system to be piloted at DC Water's Blue Plains Advanced Wastewater Treatment Plant. The system retrofits a stage of the treatment process by incorporating two sections connected by an external circuit. This microbial fuel cell works as a sort of battery, helping to recover energy lost to adding oxygen during treatment.
The project is the first globally to test the performance of a microbial fuel cell inside a working treatment plant.
The importance of his work was also recognized last year when Leininger became the first CEE student to recieve the GDF-Suez Chuck Edwards Memorial Fellowship.
Published May 10, 2018