NTC@Maryland Sponsored Seminar Series: Dr. Mohamadreza Banihashemi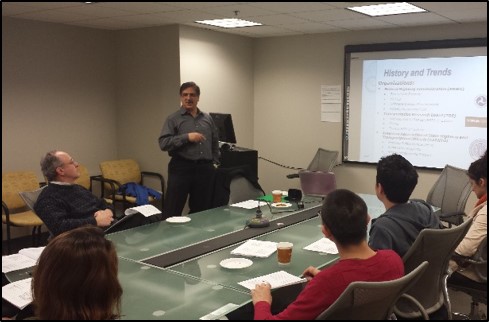 ITS-MD Student Chapter Seminar Series Sponsored by National Transportation Center @ Maryland
On April 4th, 2014, 3:30 PM to 5:00 PM, Dr. Mohamadreza Banihashemi gave a research presentation in the DeWalt Conference Suite, 2164 Glenn Martin Hall, University of Maryland, College Park. The presentation was "Introduction to Highway Safety Fundamental, Implementation of HSM in the IHSDM software"
Dr. Mohamadreza Banihashemi received PhD in Civil Engineering-Transportation in 1998, University of Maryland, College Park, MD, and is now working as a Senior Transportation Research Engineer of the Geometric Design Lab, TFHRC, FHWA, McLean, VA. The responsibilities are providing technical support to the FHWA Office of Safety Research and Development to develop the Interactive Highway Safety Design Model (IHSDM), involving in all aspects of the IHSDM software life cycle including, software training and support, involving in research related to highway safety.
Dr. Banihashemi is a member of the Transportation Research Board (TRB) Committee on "Safety Data, Analysis and Evaluation" (ANB20), also is a member" of the Institute of Transportation Engineers, ITE and a candidate for the membership of the ITE Safety Council Executive Committee.
Published July 4, 2014