COVID-19 Decision Making Gets a Big Data Boost
For more information about this story, contact rherschb@umd.edu or call 410-245-8959.
What can mobile device big data with tens of billions of data records per day across the nation tell us about mobility behavior during a pandemic?
A lot, as it turns out. As the world confronts COVID-19 and seeks to mitigate its impact, researchers at UMD's Maryland Transportation Institute (MTI) and its affiliated Center for Advanced Transportation Technology Lab (CATT Lab)—both part of UMD's A. James Clark School of Engineering—have been pulling in information from mobile devices such as smart phones, GPS devices, sensors located along highways and roads, and other sources.
The result: a real-time picture of where people are traveling, how their behavior—including social distancing—can affect spread of the virus, and how the pandemic is impacting the economy.
Big data can convey the movement of people, cars, and trucks across the nation and in each community, help in making tough decisions on social distancing measures, and optimize economic stimulus measures in order to both protect life and save the economy, says MTI's director, Herbert Rabin Distinguished Professor Lei Zhang.
UMD's Center for Advanced Transportation Technology (CATT) Lab, based at the A. James Clark School of Engineering, operates the largest transportation and mobility data archive in the nation.
MTI researchers, he explained, are fusing and leveraging data from many sources to analyze human mobility behavior under COVID-19 mobility restriction and quarantine advisories, with the aim of showing how such restrictions have worked or not worked at locations across the United States, and predicting new outbreaks by location due to observed travel from/to high infection areas.
"Analyzing these patterns can help pinpoint vectors for the spread of the virus," Zhang said. "It can also help policymakers understand what sorts of social distancing measures actually need to be put in place. We hope our research can help decision-makers decide, with scientific evidence, when and how to eventually remove social distancing mandates so the economy can recover as soon as possible."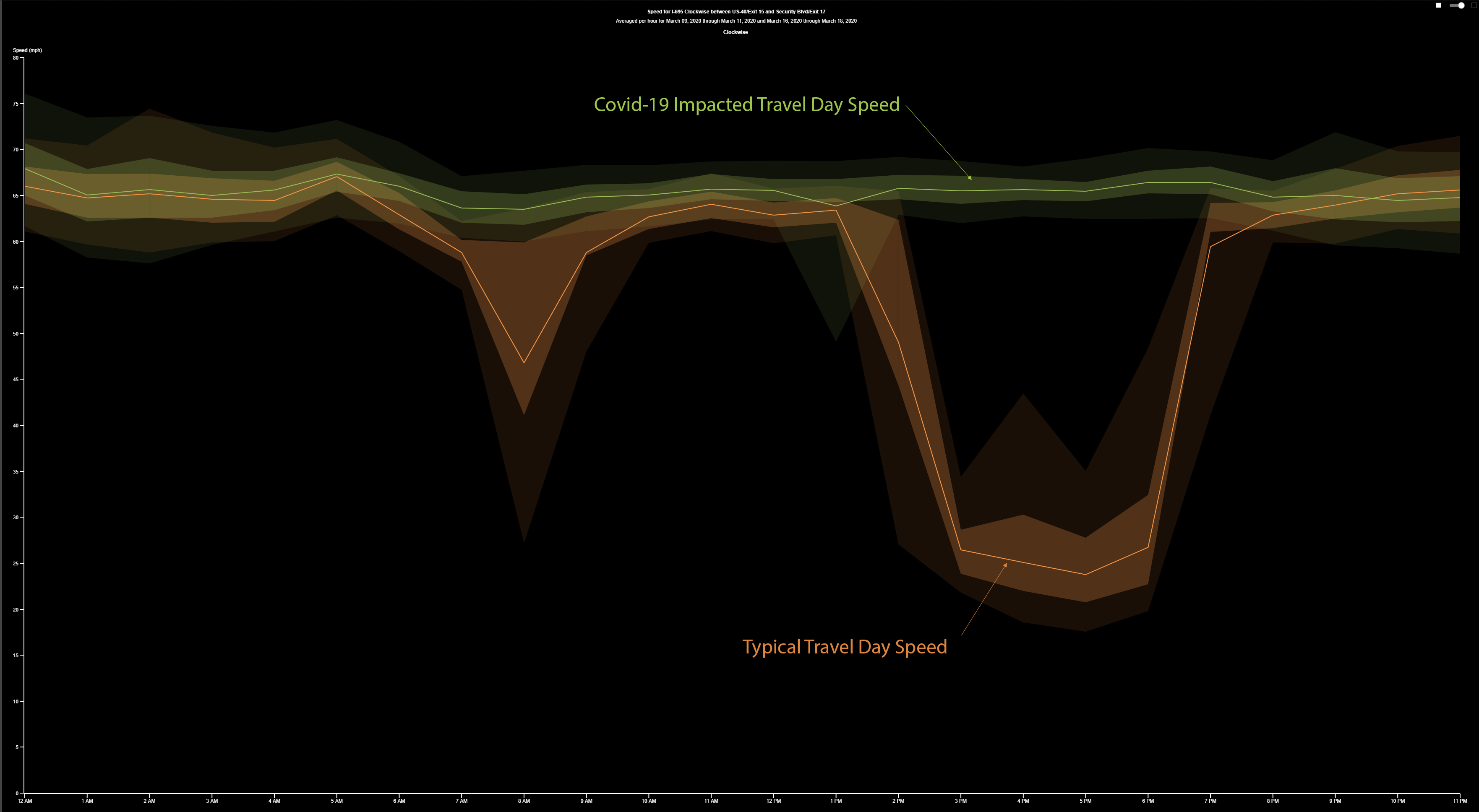 MTI is part of an International Data Collaborative, comprising more than a dozen universities, non-profits, and data providers, that has formed with the goal of studying the effects of COVID-19 and the effectiveness of public response efforts using big data. Researchers involved in the initiative include experts in transportation and travel behavior, epidemiology, applied mathematics, and big data analytics and visualization.
In addition to tracking travel behavior, "we are also working on using data to monitor how communities and businesses are negatively impacted by COVID-19 based on changing visits to points of interest (POI) such as restaurants, shopping malls, gyms, and other small businesses across the country. Governments at all levels may use the results to target stimulus funds and loans to areas that are hit the worst by the pandemic," Zhang said."We are working with several top economists and data scientists at UMD on this important topic."
Travel down—except for tractor trailers

Early numbers gathered by the CATT Lab, using its Regional Integrated Transportation Information System (RITIS), confirm that most travel has decreased sharply since the state of Maryland implemented restrictions due to COVID-19, CATT Lab Director Michael Pack said.
"During a two-day period after COVID-19 travel restrictions were imposed, traffic volumes showed a 19% decrease compared to a similar time window prior to the restrictions. However, heavy commercial vehicle volumes increased by as much as 14%, most likely due to increasing demand as businesses and families stock up on essential goods and supplies," he said.
Published March 25, 2020