NTC@Maryland Sponsored Seminar Series: Alexander Bond, Eno Center for Transportation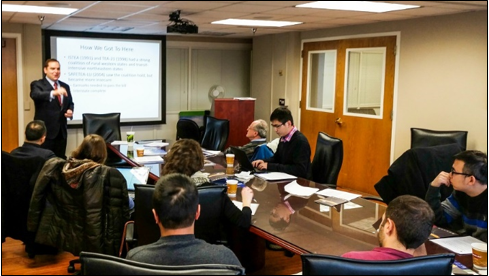 On Friday February 6, Alex Bond, the director of the Center for Transportation Leadership at the Eno Center for Transportation gave a comprehensive overview of the state of transportation funding in the US, how it got there, and where it might go in the future under the 114th Congress. The title of the talk was "Transportation Funding and Finance in the Post-TEA Era" and it was held in the CEE Main Conference Room in Glenn Martin Hall.
He began by noting that the US transportation policy is highly siloed by mode (highway, transit, rail), making it less than ideal. Since 2009 when resources became more scarce, there has been many battles fought for funding. He noted, though, that transportation policy is somewhat less of a partisan issue than other topics like education and health care, and that geography plays a much more important role than political affiliation.
Next he went through the transportation authorization acts starting with ISTEA and TEA-21 (1991 and 1998), through SAFETEA-LU with its 16 extensions, and MAP-21. The earlier acts passed relatively easily, since low density and high density states both had interests in transportation projects (the interstate project for sprawling states and transit projects for dense north eastern states). However, the SAFETEA-LU act required earmarks and multiple extensions due to political and funding woes.
A main theme of the talk was the decline of "user pay" to support transportation projects, and what might be a new source for funding in the future. Historically, transportation policy in the US has been funded by the gas tax, which was raised frequently until 1993 but has since remained fixed. In 2009, the Highway Trust Fund, which is supported by the gas tax, went insolvent, most likely due to a significant drop in national VMT per capita.
Mr. Bond then explained how general purpose funds have proven effective to fund transportation policy. Unlike formula funds, which are made available for a specific purpose, to obtain general/discretionary funding, a state must submit a proposal for the project, and they are competing not only against other transportation projects, but against other sectors in the economy as well. He pointed out that in many other nations, transportation funding is tied minimally or not at all to user fees, and that this has led to less siloed and more mutlimodal policy. Some general funds success stories in the US are the TIGER program, the New Starts (FTA Capital Investment) Program, the Urban Partnership Agreements, the Partnership for Sustainable Communities, and even the Stimulus Bill. Mr. Bond believes that general funds should take a permanent position in US transportation funding.
Finally, Mr. Bond described the potential role for public private partnerships in transportation policy. They cannot serve as a panacea, especially since only 26 have the legislation permitting them and only six of them have attempted a P3 (with Texas, Virginia, and Colorado being notable examples). He provided examples that have given P3's a bad reputation, but also examples showing their promise if done correctly, such as a commuter line in Denver that was funded by revenues from a parking garage.
The Eno Center for Transportation was founded by William Phelps Eno in 1921, and is an independent non-profit research organization, focusing on all modes of transportation. Before joining Eno, Mr. Bond was a Senior Associate at ICF International, and led multiple projects for the Federal Highway Administration, Federal Transit Administration, and the Transportation Research Board. He shared information about Eno's Future Leaders Development Conference which will be held in Washington DC from May 31- June 4th, 2015.
Published February 13, 2015