Knight, Link Share Insights on White House Flood Zone Standards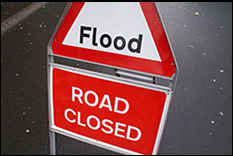 Department of Civil and Environmental Engineering Senior Research Engineers Sandra Knight and Ed Link weighed in on an Engineering News-Record report on the Obama administration's decision to tighten standards for determining where federally funded infrastructure projects in floodplains should be situated.
According to the article authored by Tom Ichniowski and Tom Sawyer, President Obama issued the executive order on Jan. 30 with a mission to ensure that taxpayer dollars are spent on resilient infrastructure capable of withstanding flooding.
Knight and Link were quoted in the article stating that the executive order is "a positive step forward in reducing flood risk and protecting federal investments."
But, both Center for Disaster Resilience researchers noted that the new standards "center on the hazard and do not consider what is vulnerable in a given location," such as in instances where the flood zone includes a dense residential neighborhood, the authors said.
"To move forward, we need to objectively and thoroughly consider a risk management standard that is not just dependent on the hazard, but that also can be applied with consistency across federal programs," Knight and Link said.
Read the full Engineering News-Record article online.
Published February 11, 2015