UMD Researchers Featured in Chesapeake Quarterly Report on Flood Wall to Protect D.C.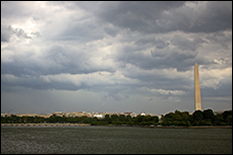 In the wake of Hurricanes Katrina and Sandy, city planners across the country are considering engineering solutions to prevent flood or storm damage in the event a catastrophic storm impacts those regions once thought of as protected from big-time storms.
As such, author Michael W. Fincham recently published a Chesapeake Quarterly report, "A Flood Wall against the Future: If Katrina Came to Washington," in which he interviews area experts on flood preparation and disaster resilience measures being taken to protect downtown Washington, D.C. Department of Civil and Environmental Engineering (CEE) Research Professor Gerry Galloway and CEE Senior Research Engineer Ed Link, both involved with the University of Maryland's Center for Disaster Resilience, contributed to the report.
"It is much better for us as a nation to prepare for the totally giant event than it is to try and recover in our country from a flood," Galloway told Fincham. "In the iconic capital of the most powerful nation in the world, do we want to have a picture of downtown Washington under water?"
Published October 30, 2014