UMD Project Management Symposium to Feature Speakers from NASA, U.S. GAO, and Others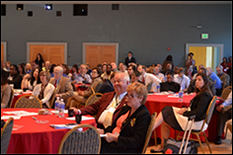 On June 8-9, 2015, project management professionals and academics from across the country and abroad will gather for the Baltimore-Washington region's second annual Project Management Symposium held at the University of Maryland (UMD) in College Park, Md. This is an opportunity for area project managers to learn from and network with each other – as well as project managers and academics from across the globe – right here in the Baltimore-Washington metropolitan area.
While last year's event drew a capacity crowd, the 2015 Project Management Symposium will feature a new line-up of world-class project management professionals that will delve into a multitude of project management topics impacting a wide range of industries and professions.
"With money tight for conferences, most project managers can only go to one conference each year," said Fred Fanning, Program/Project Manager and author of several project management books and papers. Fanning was a speaker for the 2014 symposium and is slated to present once again in 2015. "The Project Management Symposium at the University of Maryland is the conference to attend because it offers the best return on your investment."
Fanning is one of nearly 60 session speakers named as part of the star-studded 2015 symposium roster that will cover topics ranging from People in Projects and Construction to Agile Project Management and Risk & Big Data. Symposium participants will also have the opportunity to customize their event experience. Attendees can elect to participate in sessions tailored to meet their specific interests, or they may choose sessions across the range of session topics.
With this in mind, this year's keynote presentations are crafted to provide all participants with a big-picture view of how a multitude of project management topics impact countless industries and professions. Keynote speakers include Dr. Harold Kerzner of the International Institute for Learning; Jocelyn Davis, President and CEO of Nelson Hart; Chip Hastie, Vice President of Clark Construction Group, LLC; Ed Hoffman, NASA Chief Knowledge Officer and Karen Richey, Assistant Director for the Applied Research and Methods Team at the U.S. Government Accountability Office.
"We are thrilled to welcome some of the brightest minds in project management for the capital region's second annual symposium," said John H. Cable, Director of the Project Management Center for Excellence. "More than 250 project management professionals joined us last year, and we anticipate that number will grow thanks, in part, to this year's line-up and growing interest in the field of project management in the Baltimore-Washington area."
The Symposium will kick off with Dr. Harold Kerzner's anticipated presentation on "Project Management 2.0: Planning for the Future of Project Management" scheduled for Monday, June 8, at 8:45 a.m. Recognizing that it has taken several decades for executives to recognize that project management can – and does – work well, Kerzner will discuss how the definition of project success has evolved to include more elements than ever before.
"Today, we are entering a new era in project management – Project Management 2.0 – where project information can be provided to everyone rather than just a select few," Kerzner noted. "Each project can have a different set of metrics and key performance indicators, as well as different dashboard reporting requirements. The ultimate goal is to reduce costly paperwork and see how close we can get to 'paperless project management' without sacrificing the integrity by which we manage the project."
Through the 2015 Project Management Symposium, UMD's Project Management Center for Excellence will once again demonstrate the power of collaboration between academia and industry, paving the way for cross-industry education and the open exchange of best practices in project management.
Registration and additional symposium details are available online at http://PMSymposium.umd.edu/.
Published February 16, 2015