Clark School to Work with Afghan Ministry of Public Works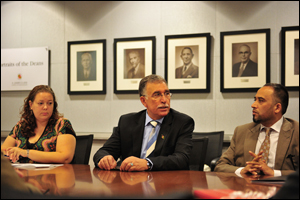 The Clark School has entered into a collaboration with the Afghanistan Ministry of Public Works in the areas of transportation research, education and best practices.
Department of Civil Engineering Chair Ali Haghani signed a memorandum of understanding along with Najibullan Aoudjan, Afghan minister of public works, covering these specific areas of collaboration:
Improving ways of managing the regions' highways
Sharing experience in transportation research
Information exchange on providing safe driving conditions
Sharing best practices.
Center for Advanced Transportation Technology Director Tom Jacobs will help foster the relationship.
Published August 30, 2012