Ayyub Featured in ASCE "Engineering Resilient Communities"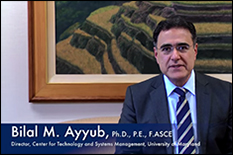 Department of Civil and Environmental Engineering Professor and Director of the Center for Technology and Systems Management Bilal Ayyub offered expert insights for the American Society of Civil Engineers' (ASCE) video, "Engineering Resilient Communities."
Ayyub opens the video saying, "Civil engineering practice concerns itself with safety, and it has evolved to reliability-based design, followed by risk-informed design. Resilience looks beyond failure to deal with recovery. It's a three-dimensional extension of what civil engineers have been doing."

The video goes on to explain that evaluating community and national resilience means understanding that the past is not always an accurate predictor of the future due to changing conditions.
"Resilience is critical and it's very important to infrastructure because it looks at the long-term impacts that climate change has, that changing operating conditions have on projects and it looks at how they adapt to those changing conditions and how do they bounce back from situations when an extreme weather event occurs, for example," said Anthony Kane, Vice President of Research and Development for the Institute for Sustainable Infrastructure.
Additional feature speakers in the video included representatives of Stantec, the Los Angeles Department of Water and Power, and the World Bank.
View the full video online and visit www.asce.org/ird for more information.
Published September 4, 2015