Andrade IUPAC 2014 AGRO New Investigator Finalist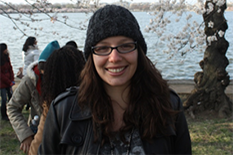 Natasha Andrade (Civil & Environmental Engineering Ph.D., 2012) was selected as one of three finalists for the International Union of Pure and Applied Chemistry (IUPAC) 2014 Division of Agrochemicals (AGRO) New Investigator Award in recognition of her work on the environmental bioavailability of pesticides at the University of Maryland.
Andrade has been awarded a $1,000 prize and was invited to present her work and compete for the New Investigator Award at the 248th American Chemical Society National Meeting in San Francisco, August 2014. The competing work is titled "Utilizing thin-film solid-phase extraction to assess the effect of organic carbon amendments on the bioavailability of DDT and dieldrin to earthworks."
The work focuses on a quick and easy technique to estimate the bioavailability of organic pollutants in soil matrices.
Andrade is currently a lecturer in the Department of Civil & Environmental Engineering.
Published April 7, 2014