UMD to Host Japan-U.S. Digital Innovation Workshop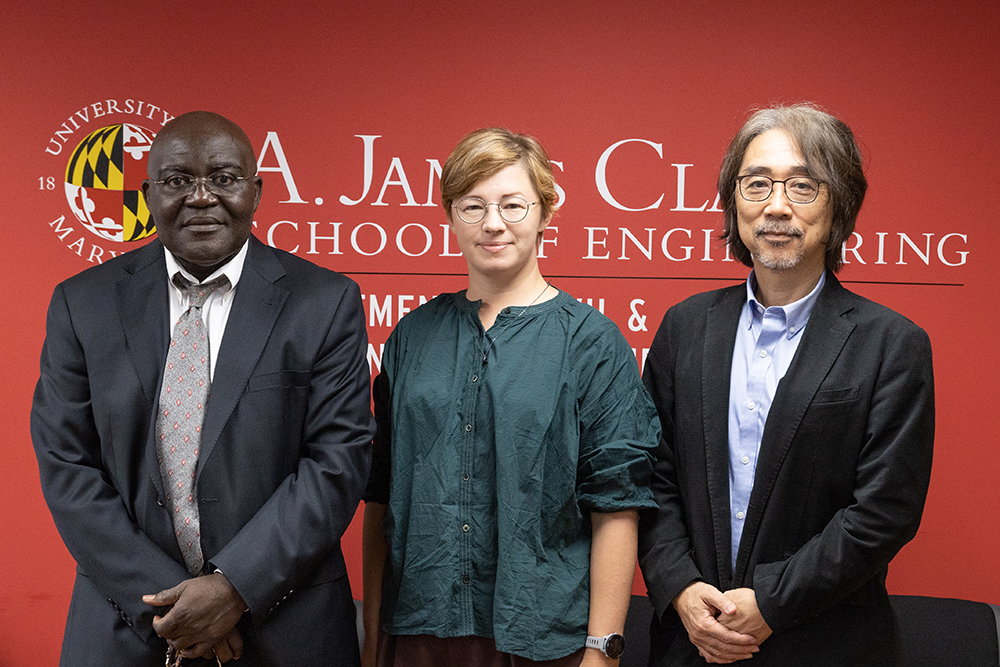 An important avenue for collaboration between U.S. and Japanese researchers is opening up again under the leadership of UMD's Department of Civil and Environmental Engineering, following a hiatus due to the COVID-19 pandemic.
The department will host the annual Workshop on U.S.-Japan Digital Innovation and Advanced Technology from November 1-2, bringing together representatives from several Japanese institutions—including Nagoya, Sophia, Tohoku and Tsukuba Universities—and their counterparts from UMD and other U.S. universities.
"International research collaboration is essential to fully realizing the potential of advanced technologies, including AI and machine learning," said Nii Attoh-Okine, chair of the UMD civil and environmental engineering department. "At Maryland Engineering, we are excited to have the opportunity to foster such collaboration."
Earlier this month, Tsukuba University assistant professor Anna Bogdanova and Professor Tetsuya Sakurai, director of the university's Center for Artificial Intelligence Research (C-AIR), were on campus to help lay the groundwork for the upcoming workshop. "We know that UMD has a strong civil and environmental engineering department and we are very much interested in pursuing research opportunities together in areas such as smart cities," Bogdanova said.
C-AIR has an ongoing project, funded by Japan's New Energy Development Organization (NEDO), that is focused on methods for sharing and analyzing data without compromising sensitive personal information, Sakurai noted. "We have been working with several universities in the U.S. and are looking for new opportunities at UMD," he said.
UMD researchers are working in a number of related areas, including the development of secure frameworks for data utilization. The Maryland Transportation Institute (MTI), housed in the CEE department, has conducted multiple projects centered on the utilization of aggregated location data to analyze mobility behavior, particularly within the context of public health crises.
"We are well-positioned to collaborate on research that can advance these fields further," Attoh-Okine said. "In addition to MTI, we are home to the Center for Transportation Technology Laboratory, which houses the world's largest transportation database, as well as numerous other centers and labs that support artificial intelligence and machine learning, We have a number of faculty and graduate researchers who are focused on smart city research as well as on data privacy protection."
"The workshop provides a truly exciting opportunity to build the momentum for collaboration," he said. "The CEE department is looking forward to starting a joint exchange program with selected Japanese universities."
Published October 17, 2022