UMD Alumna Preserves American Icons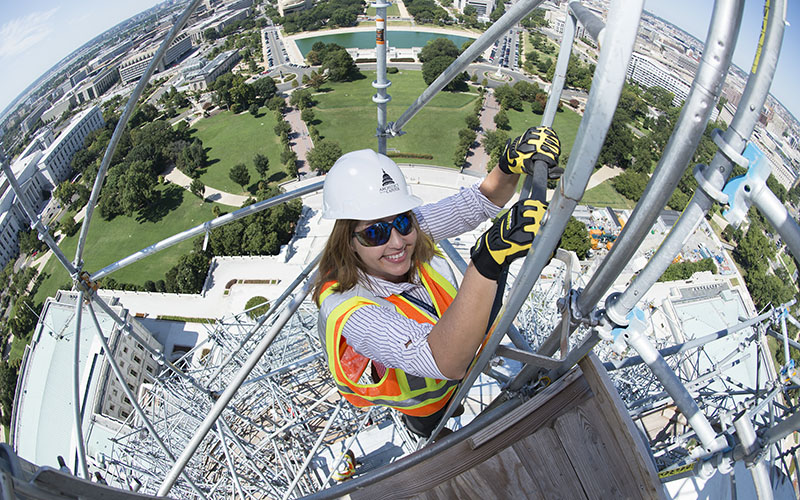 Christine Merdon has had a monumental career.
As the first female chief operating officer of the Architect of the Capitol, Merdon oversaw the latest renovation of the Capitol Dome. The multiyear project was a response to weather damage that threatened the structural and aesthetic integrity of the iconic building.
It's a shining example of the mission of the Architect of the Capitol: serve, preserve and inspire. Its 2,300 staffers are responsible for the operations and care of more than 17.4 million square feet of facilities—including the U.S. Capitol, Library of Congress, and Supreme Court—570 acres of grounds, and thousands of works of art.
"We pride ourselves in our ability to quickly respond to the needs of Congress, the Supreme Court, and all who visit Capitol Hill," said Merdon, a Southern Maryland native. "My role is to support my team to ensure they have the resources and direction needed to succeed to their fullest potential."
But Merdon was no stranger to projects of national pride when she joined the Architect of the Capitol in 2010. While working at McKissack & McKissack and Clark Construction, she led the planning and construction of the Dr. Martin Luther King, Jr. Memorial and the National Museum for African American History and Culture. She also managed construction of the Washington Nationals Major League Baseball Stadium as well as renovations to the Abraham Lincoln and Thomas Jefferson memorials.
In total, Merdon has overseen more than $11 billion in construction projects and programs over her 30-year career.
So it may surprise some to learn that she didn't set out to be a civil engineer.
"When I started school at Charles County Community College [now the College of Southern Maryland], there was a scholarship opportunity offered by the nearby Naval base," she explained. "I was interested in landscape architecture; however, only engineering scholarships were offered. I asked myself, 'What is the closest to landscape architecture?' And it was civil engineering."
She would later transfer to the University of Maryland (UMD) Department of Civil and Environmental Engineering (CEE), where she found what she describes as "a lifelong community of friends."
"The university was a game changer for me," said Merdon, who also earned a Master of Science at UMD after a stint as a project engineer at the White House Military Office. "The faculty and administration were always very supportive."
Merdon's connection to the university, though, began roughly a decade before she enrolled as an undergraduate. Her mother went to school at night when Merdon was young, eventually becoming a teaching assistant.
"I used to sit in her classes as a child," said Merdon, "so you can say I've been a Terp since age 10!"
It was from her mom that Merdon learned the vision and perseverance that has shaped her career. An immigrant who supported three children working as a hairdresser while also earning a college degree at night, Merdon's mother continues to be her inspiration.
"My mother is my biggest role model," explained Merdon. "She was a single mother who encouraged all of her kids to do well in school and work hard to achieve their dreams."
Now a mother herself, Merdon gives back to the university that fostered her career by serving as chair of CEE's Board of Visitors.
And when she's not helping the department plan for the future or leading her team at the Architect of the Capitol, you're likely to find Merdon coaching her 15-year-old daughter's sporting activities or painting.
"I love art," she said "I've taken classes at the Corcoran School of Art and have developed a deep affection for painting and drawing."
Published March 23, 2018