Professor Bilal M. Ayyub appointed Chair of Research Committee on Risk Technology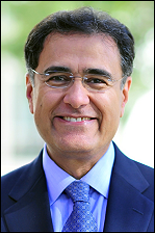 Department of Civil and Environmental Engineering Professor Bilal M. Ayyub was appointed to the American Society of Mechanical Engineers' (ASME) Board on Research & Technology Development (BRTD) as chair of the Research Committee on Risk Technology.
Ayyub, who is also Director of the Center for Technology and Systems Management, is engaged in research activities focused on uncertainty modeling and analysis, systems modeling, decision analysis, homeland security, various defense and infrastructure systems, safety systems, and mathematical modeling using statistics, probability theory, fuzzy sets, and the theory of evidence.
The BRTD identifies research needs and opportunities for new ASME products and services and oversees the research committees in the Center for Research and Technology Development. Individuals serving on the board function as liaisons between BRTD and the appropriate Sectors, Boards, Divisions and/or other units of the Society.
For more information on Ayyub and his work, visit his faculty webpage.
Published November 26, 2013